Free Service Since 1959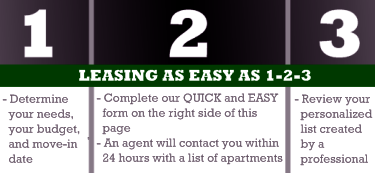 Agents in Kansas City Ready to Search for you!
Featured Agent:
Diane Bruns
816-529-1891



Featured Agent:
Jennifer Garrett
913-558-6240





ATTENTION INVESTORS & OWNERS!
We have renters right now for 2, 3, & 4 BR Townhomes, Condos, Duplexes and Single Family Homes in the Kansas City Metropolitan area.
The Apartment Selector Process Kansas City Apartments Near Honeywell Corporation
9. Two BR townhome in Overland Park now on special for $775 plus 1 month free with 13 month lease. 3 Levels with w/d hookups and unfinished basement. Same floor plan with finished only $825. 1500 sq ft. 89095
10. 2 br apartments now on special in Parkville for only $500 a month. Comes with w/d hookups. 89450
11. Now available-1 br apartment with with study, 886 sq ft for only $710. Plus $99 move in special. In addtion, to benefit Harvesters food drive, bring in 5 cans of food by 11/15 and don't pay rent until January. 89131
12. 1175 sq ft 2 floor loft now available downtown KC next to Power & Light district. Concrete floors and w/d in unit. Now only $1050. 89461
13. 2 BR Loft in the middle of the River Market area in DT Kansas City now on special. 1150 sq ft loft was $1150, now only $995 a month. 89461
14. New luxury apartment community in Grain Valley has 1 & 2 br available with 1 month free rent on 12 month lease. One br start at $699 and 2 br start at $829. Sports bar /restaurant and coffee shop on site. Amenities include w/d in room, fitness center, pool plus much more. 89483
15. 1 br loft for $790, 800 sq ft now available in River Market area. Comes with w/d in room, free gated parking, swimming pool, exposed brick and timber and more. Water & trash is paid. 89455
Start Your Search
Vacancy Information Form!