Free Service Since 1959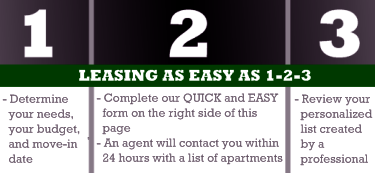 Agents in Atlanta Ready to Search for you!
The Apartment Selector Process Atlanta Apartments near Houston Hotels
Start Your Search
Vacancy Information Form!
Just beyond the bright lights and sculptured skyline of Atlanta lies a rich Southern history and heartland within the city's neighborhoods. These in-town neighborhoods summon visitors to experience the many unique areas that create the landscape of this varied "winds of change" city.

Ansley Park is about three miles from, located north of the major convention center hub and downtown, just off Peachtree at 15th St. The neighborhood began construction in 1905 and has always been one of Atlanta's premier residential areas. Renovated homes of early American heritage line the cobblestone walkways encircling Ansley Park's forest gardens and parklands. The entire neighborhood is a National Historic District.

Just east of Ansley Park is an area known as Virginia-Highlands because of its location at the intersection of Virginia and North Highland avenues. A popular spot with Atlanta's young professionals, Virginia-Highlands is noted for its renovations of 60 to 80-year-old homes, many of which have been converted into apartments. It is unique with it's 50-year-old shopping district with family-owned, one-of-a-kind restaurants, music and jazz clubs and retail stores.
Just south of the neighborhood is Little Five Points, Atlanta's source for eclectic dining, shopping and artistic creativity, reminiscent of New York's Greenwich Village. There are small apartment communities and brand new and old converted lofts in this distinct area. Embracing every lifestyle, from Rasta to Gothic, the residents and local businesses offer a flavor unique to Atlanta. Local restaurants, shops and arts venues include 7Stages, Variety Playhouse and the Star Community Bar, which converted a former bank's vault into a shrine to Elvis.

Inman Park, west of Little Five Points and Atlanta's first planned suburb, was built in the 1900s and originally provided residents transportation downtown via the trolley. Now it sports it's own MARTA train station. The neighborhood was named for Edward H. Inman, owner of Atlanta's famed Swan House, located at the Atlanta History Center in Buckhead. In the early 1970s, Inman Park became a focus of restoration. After years of improvement, it is now one of Atlanta's most prestigious neighborhoods. The streets are lined with shade-providing willow trees and authentic Victorian-style homes, complete with gazebos and scalloped awnings. This area is up and coming with new loft style apartments and is well desired for it's location and accessibility to Downtown Atlanta with a neighborhood feel.

Traveling east, toward Zoo Atlanta, is Grant Park, one of Atlanta's oldest neighborhoods, built from 1895 to 1915. Grant Park's 100 acres were originally a gift from Colonel L.P. Grant in preparation for Sherman's impending attack on the city. Restoration in the mid-1970s when old architecture and bygone urban beauty became influences on Atlanta's mainstream culture. The neighborhood is now a center of revitalization hosting seasonal festivals and tours of homes. The area has the converted homes into apartments with hardwood floors and construction for loft style apartments are starting to take hold in the area.

West of Inman Park is Atlanta's famed Sweet Auburn district. This area is noted for being the center of African-American night life during a time when African Americans were restricted by white-owned businesses. The neighborhood's Auburn Avenue was once hailed as the richest black street in America. Today, Auburn Avenue is the center of Atlanta's African-American history and features the Martin Luther King, Jr. Center for Nonviolent Social Change, the Martin Luther King National Park Service Visitors' Center, King's birth home and Ebenezer Baptist Church, where King and his father preached. This area underwent extensive renovation in preparation for the 1996 Centennial Olympic Games.

One of Atlanta's most prominent neighborhoods, Buckhead, is located north of Midtown and downtown. Long a younger professional's paradise with the nightclubs, sport bars and music entertainment at your every turn. Atlanta's hottest nightspot and features some of the city's most popular nightclubs and restaurants. Exquisite apartment communities, highrises and Loft are available throughout the Buckhead area on or close to Peachtree Road. The Buckhead neighborhood is comprised of exclusive townhouses and Condo Highrises and uniquely styled homes from the 1950s and 1960s. West Paces Ferry Road in Buckhead is the location of the Governor's Mansion and the Atlanta History Center.

Downtown is Atlanta's newest "neighborhood." Office Building such the The William Oliver and the Metropolitan and the former Muses Department Store have been converted into highly sought after loft apartment and condo's. Others have been turned into art galleries and shops. Highly popular local with MARTA train stations with-in blocks of desired destinations. "Downtown Ambassadors" patrol the streets offering security and assistance. Evolving into a 24-hour city, Downtown presents an in-town experience that's surrounded by a bustling metropolis alive with Southern hospitality.

Once known as Uptown, Midtown today is an area known for its residential diversity combined with an energetic business district. Now known as the heart of the arts in Atlanta, Midtown has recently experienced a rejuvenation and become a dynamic and vital in-town neighborhood. Apartments and Lofts have become a vibrant part of the living lifestyle in the Midtown area and it offered a unique and busy lifestyle. From the Atlanta Botanical Garden to the Piedmont Park, the newly expanded High Museum and the Woodruff Arts Center to the Fox Theater, bungalows, skyscrapers, highrise living, restaurants and churches, Midtown offers an eclectic blend of dining, cultural attractions and night life in an urban setting with the domestic comforts of an increasingly residential area with MARTA at your backdoor to get you to and from.